LIGHTWEIGHT AUTONOMOUS SHOPPING SOLUTION FOR RETAILERS
Cashierless Checkout Technology That Enables Customers to Shop as Normal and Checkout by Simply Walking Out of the Store.
MICROMARKETS
SUPERMARKETS
DEPARTMENT STORES
CONVENIENCE STORES
How does Cashier less checkout work?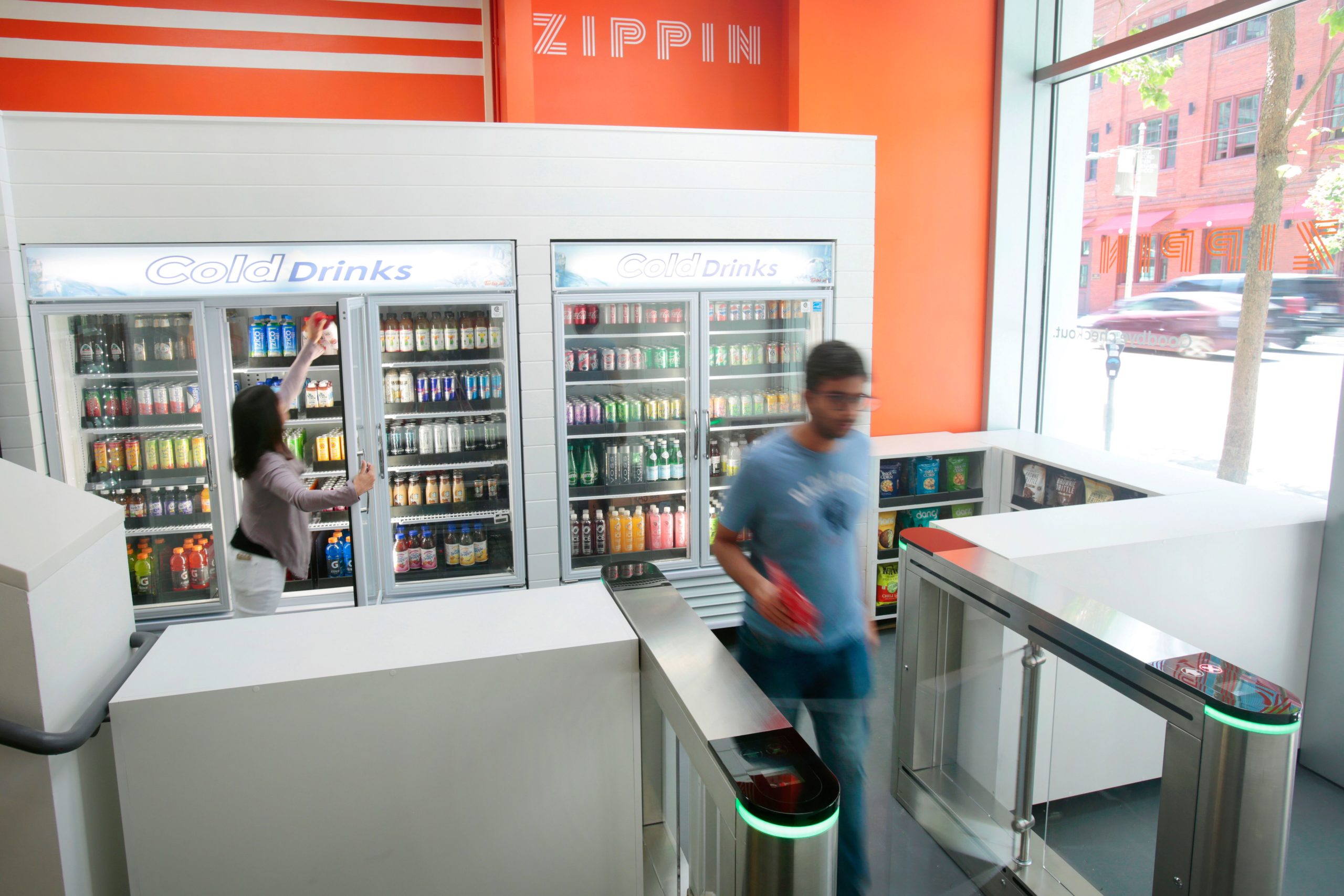 Session Start
Shopping sessions can start in a variety of ways depending on retailer's preference. In a standard set up, customers initiate a transaction at an entry gate using a personal QR code from an app. Facial recognition can also be used for identification. Other setups can be configured without an entry gate or even without an app.
Person Detected
Upon entering the store, strategically placed cameras capture the scene. Deep learning models running on local servers to detect humans in these video feeds.
Anonymous Tracking
When a shopping session is started, customers are assigned a random ID. A central server uses this to track each shopper throughout the store as they pass through from camera to camera.
Product Takes and Puts
Using deep learning models trained on product and positioning data from our Product Mapper software, the system determines when customers interact with products & whether to add or subtract that item from their cart.
Check-Out
Upon leaving the store (or designated Frictionless area) customers are charged via their digital wallet, receving a receipt via email or text. In other configurations, a POS kiosk may auto-populate the customer's cart for checkout, allowing use of conventional payment methods such as cash, credit, etc.
Amazon's cashierless checkout technology is coming to its new supermarkets
Amazon could soon introduce its cashierless checkout technology at its growing line of Fresh grocery stores. Signs of Amazon's "Just Walk Out" technology, including gated turnstiles and hardware to potentially house ceiling-mounted cameras, appear in planning documents for a store under construction in Brookfield, Connecticut.
Amazon's cashierless checkout technology could soon be coming to its growing line of Fresh grocery stores.
Features of Amazon's automated checkout technology, called "Just Walk Out," appear in planning documents for a store under construction in a suburban shopping plaza in Brookfield, Connecticut. The technology allows customers to skip the checkout line by tracking any items they grab and charging them when they leave.
Amazon declined to comment. News of Amazon's plans was first reported by Bloomberg.
The documents show gated entry and exit lanes at the front of the store, where shoppers would presumably scan an app or credit card as they come in, as well as hardware to potentially house ceiling-mounted cameras that track which items shoppers pick up in the store. The documents also mention an electronic shelving system, a feature Amazon has deployed in its Fresh and cashierless Go convenience stores.
Additionally, a large staging area appears at the front of the proposed store layout. Fresh stores have a dedicated section where customers can pick up amazon.com or grocery orders placed online or return their packages for free.
It's unclear if the store will incorporate other high-tech elements featured in Fresh stores, such as its recently launched Dash Carts, which are smart shopping carts that let shoppers check out without waiting in line.
In September, Amazon opened its first Fresh grocery store in Los Angeles' Woodland Hills neighborhood. It has since opened a dozen stores, located in southern California and in several suburbs of Chicago. The company also plans to open a handful of stores on the East Coast.
If Amazon ends up launching cashierless checkout technology in Fresh stores, it would represent an industry feat. Start-ups such as Standard Cognition, AiFi and Grabango have all developed autonomous systems for retailers, but widespread adoption has been slow, as the technology remains costly and challenging to deploy in large store formats.
Amazon Fresh stores are roughly 35,000 square feet, or about the size of a store in Amazon's other grocery chain, Whole Foods. The format incorporates a blend of in-store and online shopping, while offering consumers a variety of products at lower price points than the largely upscale options offered at Whole Foods.